Where did all the Grass Seed go?
If you've been having a rough time finding the grass seed you need, you're not alone. Lately you may have noticed that grass seed mixes, especially our old favorites like the Essex 2 blend- have been particularly hard to come by. And no, this isn't a conspiracy by grass seed suppliers to create a supply shortage; the truth is simpler, and yet harder to fix. Let's look at some of the reasons why our shelves have been empty, and what we can do in the meantime.
Drought Conditions in the Pacific Northwest
This year more than 80% of the Pacific Northwest experienced drought conditions. 1 The ongoing drought conditions in the Pacific Northwest have had a ripple effect on the country's grass seed supply. This year's harvest was down 40-50% on some grass seed farms.2 Willamette Valley, in Oregon, produces almost 2/3rds of the country's cool-season turf grass, and the state produces about 600 million pounds of grass seed every year, according to the Oregon Seed Council.3 As most of Oregon's grass harvest is sold outside the state, meaning that many states have seen this shortage reflected in empty shelves and higher prices for the meager harvest.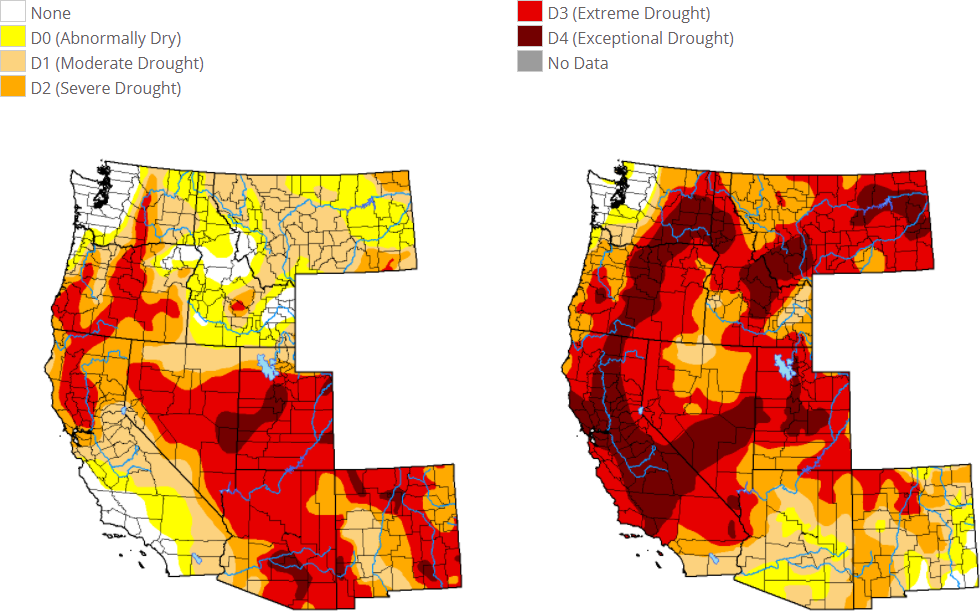 As you can see from the attached drought map, last October's drought conditions (left side) were not nearly as severe as the drought conditions of this October (right side).
According to the US Drought Monitor4, the longest duration of drought conditions in Oregon lasted 270 weeks, from late 2011 to early 2017. The most intense period of drought occurred just a month ago, the week of August 31, 2021.
When you take into account that drought conditions have persisted in Oregon for the past decade, it becomes clear that this year's extreme drought conditions, with a drought emergency declared in 35 counties across the state, is not a fluke. Conditions of low humidity and lack of existing moisture have prevented Oregon from recovering a stable level of moisture in the soil to sustain normal crop production.
How Drought Affects Grass Seed Crops
Though there has been some rainfall, the dryness of the soil and lack of groundwater in storage means all the water evaporates before the crops can drink much of it.5 When grass is dehydrated, the stalks and seed-heads become so brittle they are impossible to harvest using commercial farm equipment, since they break under a combine harvester.6 Many farms across the state of Oregon have reported the same story; doing all they can to preserve the crops that are still hardy. Projections of increased rainfall this winter will help improve soil conditions for next spring if they hold true, but this summer was extremely rough for grass farmers.
Our Supply of Grass Seed
It's ironic how New England was exceptionally rainy and wet all summer, yet we're short on seed for our lawns due to a drought. It just goes to show how interconnected the network of supply is throughout our country. It's quite easy to lose touch with where things come from and how much effort goes into the simple things in life.
Though our supplier who creates our standby grass mixes, Jonathan Green, is unable to supply our seed order this year, we are stocking alternatives such as Black Beauty Classic, a fescue mix for cool seasons, and Black BeautySun and Shade, a hardy mix. We currently have Catamount Sun and Shade in 7lb and 25lb bags, as well. Though we can't always guarantee stock of our grass seed, we hope the alternative we've found will be enough to get us all through the season. Here's hoping that next spring will replenish our grass seed supply, and Northwestern farmers get some well-deserved rain.