Windrush Farm Benefit Events
The Essex County Co-Op has two upcoming and concurrent events scheduled to benefit Windrush Farm.
Windrush Farm is based in North Andover, Massachusetts, and provides quality equine-based services for children and adults facing physical, cognitive, and emotional challenges. While their services started primarily with therapeutic riding, they have expanded to also include unmounted programs and other horse-related activities.
Windrush Farm was founded in 1964 and is one of the oldest and largest therapeutic riding centers in the United States. This is considered a premier center and is accredited by the Professional Association of Therapeutic Horsemanship (PATH). In addition to their therapeutic offering, Windrush Farm also offers recreational riding lessons and a wide variety of volunteer opportunities.
Windrush has a special team of horses which are "carefully trained and led by our in-house professionals, who work every day to challenge our clients to push beyond their perceived limits in a safe and controlled environment." Many of the staff and volunteers at Windrush Farm have been there for decades, and they are committed to "providing the best equine facilitated therapeutic services to our clients in the most compassionate manner."
Windrush Farm works primarily on donations, and the Essex County Co-Op looks to help them whenever possible. On November 30, 2021, Windrush Farm will be parking a trailer outside of the Co-Op to host a Fill-A-Trailer. The farm has a variety of items on their wishlist and any item that is purchased and donated the day of the event will receive a 10% discount that day (in-store only).
Additionally, starting November 30th, 2021, the Co-Op will be hosting a hay drive for Windrush Farm. To donate hay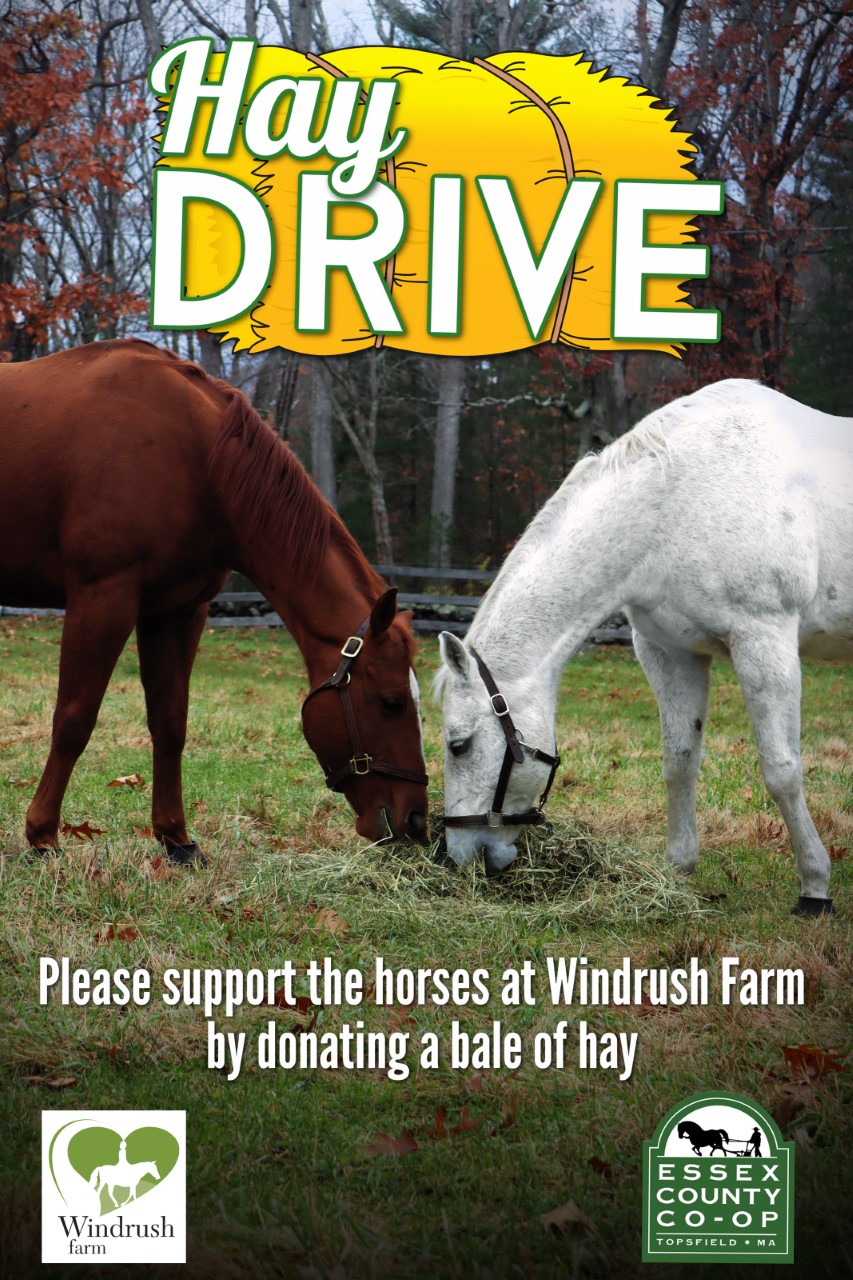 to the farm, come into the store and tell the cashier the type and number of bales that you would like to donate. After December 6th, the Co-Op will gather all of the donated hay and deliver it to Windrush Farm on their next delivery day to ensure their horses are well-fed this winter. With the price of hay increasing and the availability of hay decreasing, Windrush counts on your donations to keep the horse's bellies full! (The hay is not eligible for the 10% discount unless purchased by a shareholder on a Tuesday).